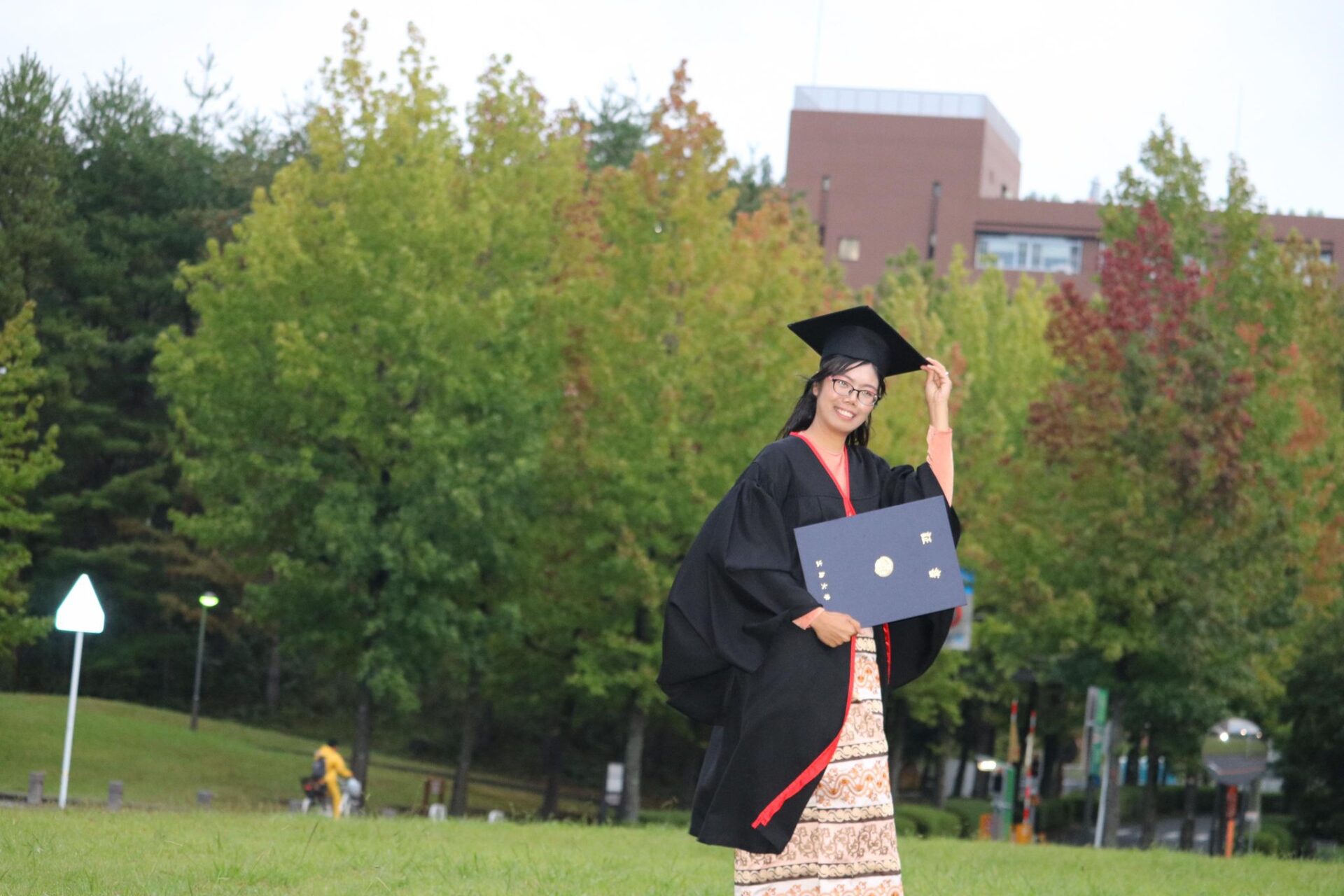 Name
TIN NU NU WAI
Country
Myanmar
Year / month of graduation
September 2019
Degree obtained
Master of Education
Position / organization


as of March 2021

Lecturer, Sagaing University of Education
This article was written in March 2021.
Why did you choose Japan, and Hiroshima university for your study?
I chose Japan to study abroad because Japan is one of the top countries for quality education through early childhood to a higher level. I believed that study in Japanese universities would provide a solid foundation for my professional life as a teacher and a researcher. Besides, Japan is famous for its people who are hardworking and attachment to disciplines and hospitality. It is also well known for its safe, clean and secure environment. These facts made me inspire to learn in Japan. Hiroshima university provides different courses relating to the education field. I believed that these courses could help me acquire the constructive attitudes, knowledge, and abilities essential for my professional development. The University provides a supportive learning environment through essential facilities to study and live comfortably, such as libraries, restaurants, health care centers, and counseling centers. The beauty of the relaxed campus is also one of the attractions to study at Hiroshima University.
What did you learn and study at Hiroshima university?
I have learned a lot from Hiroshima University. Different courses from the University make me broaden and improve my knowledge and skills of academic areas and other essential professional development skills. I studied education courses that provide valuable knowledge and experience regarding theories and practices of education. I know more about how people from different countries try for education to be a sustainable and prosperous world.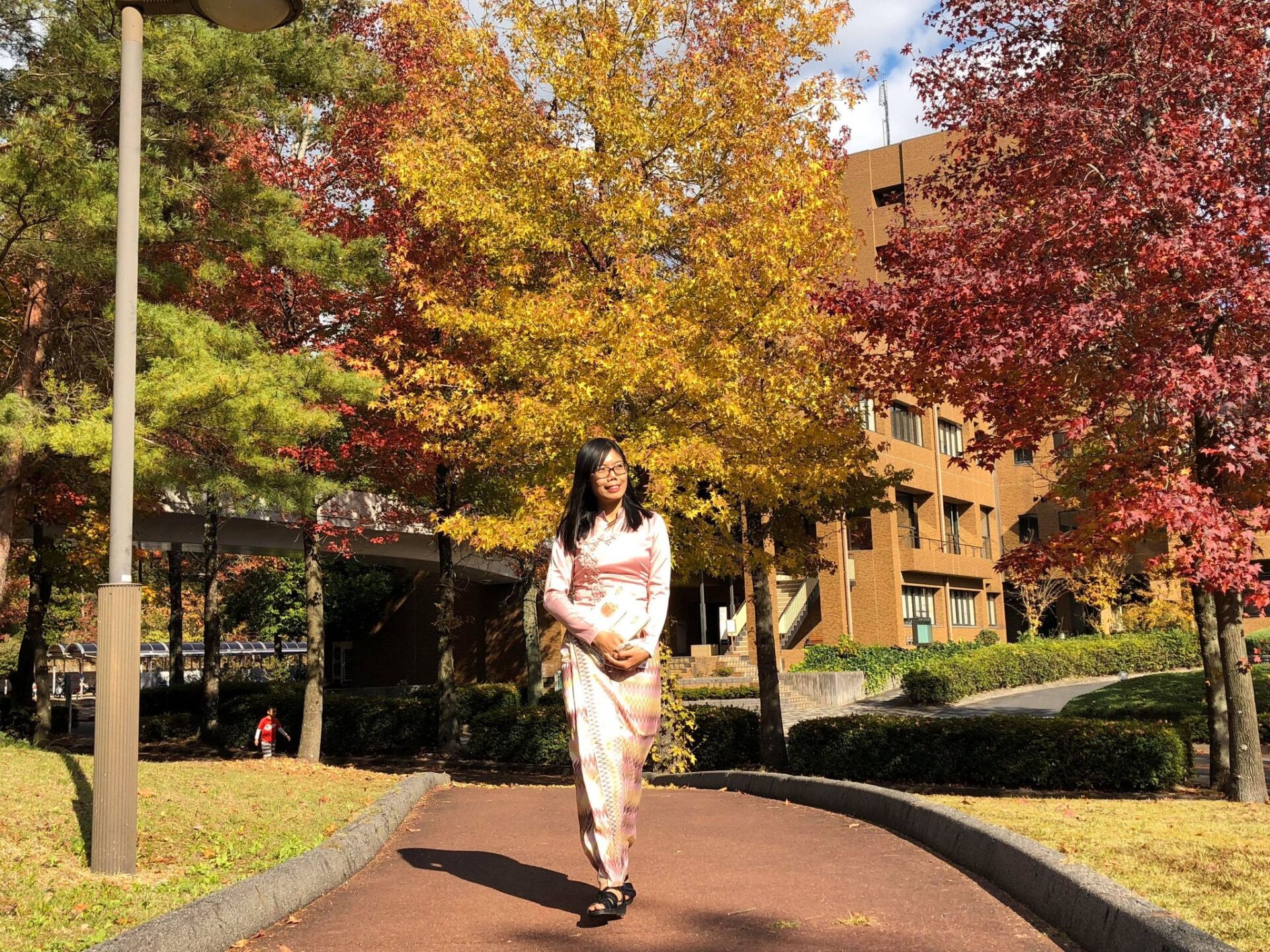 My perspectives on education have been widened through lectures. I could also learn various methods of research both theoretically and practically from different classes. Moreover, academic writing classes and educational statistics classes support me to improve my research skills. Significantly, the weekly seminars with the main professor helped me enrich knowledge and analytical skills regarding research and academic area. I also studied different cultures of Asians through Asian culture class. This course enhanced my understanding of differences in cultures and how to live together with differences. Especially, I studied and researched in the Early Childhood Care and Education field. The lectures and visits to early childhood education centers widened my understanding of early childhood education's importance theoretically and its practices. I wrote a thesis titled "A Study on the Effect of Play-based Curriculum on Cognitive and Non-cognitive Abilities of Kindergarten Children in Myanmar."
Did you enjoy your stay in Hiroshima?
I enjoyed staying in Hiroshima. I have many memorable experiences during my stay in Hiroshima. One of the most unforgettable experiences is my first experience of presenting my research at the Japan Comparative Education Society Conference held in Hiroshima. I put much effort into this presentation with the great support of my professor. I felt really excited to present in front of the audience. I received constructive feedback from the audience and had a good time. I could also learn research and presentations of students and researchers from different universities. These experiences encouraged me to enjoy academic conferences.
Please tell us your current work. Does what you learned or studied at Hiroshima university help you?
I am a lecturer at the Department of Educational Psychology, Sagaing University of Education, Myanmar. Knowledge and skills acquired from the Hiroshima University help me a lot in my professional life. Since I am a teacher and I learned the Education development course, I have been using academic skills directly in my workplace. I have learned not only academic skills from the professors but also their pedagogical skills. After a two-year study, I have changed some of my teaching styles, lesson preparation and presentation after my master's degree at the Hiroshima University. For example, I prepared questions and quiz at the beginning and end of a lecture to induce students' interests and assess their understanding, resulting in improvement of students' motivation. As a University teacher, I need to supervise undergraduate students' term papers and graduate students' thesis. I can apply what I have learned such as academic and research knowledge, supervision of students. Besides teaching-learning, I continue to research in the academic field using the skills acquired from the Hiroshima University. Moreover, I share my academic experiences and daily life experiences in Japan with my colleagues and students through workshops and classes. Therefore, my students' perspectives can be broadened through my experiences. Significantly, I have a chance to use my knowledge of my specialized academic area, Early Childhood Care and Education. We are trying to establish an Early Childhood Care and Development (ECCD) course at my University. I can apply the knowledge and experiences from the studies at the Hiroshima University and from my research experience.
Do you recommend Hiroshima university for others to choose?
I do recommend Hiroshima University for others to choose. I am conviced the Hiroshima University provides all students with excellent support for their students' lives and beautiful experiences for their future. All staff at the University are recognized as warm, supportive and proficient. Learning academic knowledge and skills from proficient professors provides satisfaction for valuable experiences for their future. The staff from the support office are always ready to provide support for students. Hiroshima University is perfect for international students because of its excellent support to international students. We can also learn about different cultures and widen our network through various events and communication with international students. All in all, Hiroshima University always welcomes students with its cool and seasonal beauty of the campus.
Back